A review of Catherine.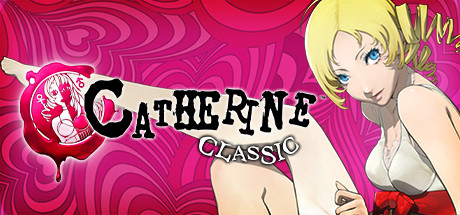 I find it's much easier to write when I have someone to be mad at.  To that end, take a look at this.  If I were in the mood to be kind, I would describe that as an informational review, and including it saves me a certain amount of effort in describing the thing I intend to explore a little more critically.  In case my dichotomy doesn't read: There will be spoilers. If you are the type of person that cares, go play the game first. All good? Let's begin.

I.
Catherine is a game about cheating, or, more particularly, it's a game about how well-established social morals around cheating interact with "modern" ideals of how romantic relationships look. The scare quotes are because the game's (c. 2011) interpretation of modernity probably solidified around the late 90s and is at least a little different from what things are like today (accord variance for local culture as you will), but understanding that difference helps resolve at least a little of the cognitive dissonance you get when socially average (read: complete loser) protagonist Vincent wakes up massively hungover next to naked, beautiful, and not at all hungover Catherine after a night at the bar and immediately internalizes it as his fault. Frankly, there's a good argument that it is, but there is conspicuously little examination of what, by even more modern standards, is essentially date rape.

I'll be clear: I'm not saying that I wanted that examination–God knows I get enough of it from modern media–but its absence is a good marker for where this game is coming from. More broadly, there is a lot we can glean from what Catherine takes for granted. In context, Vincent is characterized as a fairly together person who is going through a weird time in his life, but anyone looking at this by Western standards is immediately calling bullshit. Vincent is a raging alcoholic in a clearly dysfunctional relationship, and that his behavior is normalized is telling, but before you get angry at that, slow down, have a drink yourself.

It's easy to get pissy at the message this sends to society ("relationships are oppressive, excessive alcohol and poor communication skills are acceptable") or at the people who get pissy thereof, but the story is still (depending on your ending) one of a fuckboi slowly learning to be less of a fuckboi, so the vector is still in the right direction in my mind. Instead, let's talk about fairy tales and how the general public has a hot-garbage understanding of the underpinnings of writing.

II.
Has anyone else run into that asshole who, you know, actually says the words "show, don't tell"? Honestly, it's good advice in high school, but thereafter it's generally not a kind conclusion. As with all advice, "show, don't tell" has an implied context, and a fair amount of fiction falls outside that context. Case in point: folklore. In myth, legend, fairy tales, it's extremely important to the format that you don't show what actually happened. The story you're telling is actually the story of someone else being told what happened, and putting aside that you literally can't show things in that framework, even so much as trying would disrupt the tension between the storyteller and the audience, which is important regardless of how hypothetical each of those entities is. Same thing with the historicity in Dark Souls, and more generally, same thing with any story where you're calling attention to a source.

Catherine, of course, doesn't have a problem with showing or telling, but instead of reading its hyper-media-coded characters and "fumbled gender stereotypes" as hokey, politically incorrect attempts at description, consider reading them as deliberate oversimplifications, the types of things a storyteller would include in a tall tale to drive home a central point or exploration. Actually, that suggestion may be a little soft–that's exactly what they are, or did you just ignore the introduction where the game told you that everything you were about to see was a TV show?

This is, of course, one of the reasons why the outrage over the game's treatment of transsexuality is ridiculous. You're looking at a well-intentioned and inclusive piece (provided you don't view Vincent, et al's transphobia as aspirational–you shouldn't), wrapped in 90s/00s language that simply doesn't have the same words and concepts as the modern []-Studies crowd. The criticism then translates as a critique on fashionability, which seems kinda petty.

Aside, though uncomfortably political: The game's nightmare–the one that only affects men, including the game's trans-woman–is ultimately revealed to be generated by a demon whose stated aim is to torment men who are not contributing to human reproduction. Given that it is a targeted weapon controlled by a specific entity rather than an axiomatic validation of gender, I would ask the folk who are upset to contemplate exactly how woke they think Satan is (1). "Sounds stupid?" Yes.

III.
"I get that you disagree with these people, but what about the game?"

I'm glad that it exists. I'm reading it as a serious attempt at literary exploration of a complicated but atypically well-defined social perception. The very first review I read for the game back in 2011 described it as "mature", and I think that's on point. There are a lot of cheesy places that a game about horror and sex can go, but I think that a puzzle loop harnessing the metaphor of elevating oneself amidst horrific emotional storms and antagonism feels very true.

It's not perfect, of course. It's really not perfect. I'll defend the game's extremely blunt characterizations as deliberate choices, designed for a purpose, but that doesn't mean they all worked. Vincent, in particular, was rough. His shortcomings were fine as a baseline, but then they became a one-trick pony for advancing the plot, and I started feeling like I was going through the worst parts of Romeo and Juliet all over again–the problems stopped looking insurmountable because they were, in fact, very easy to solve, and Vincent's sheer incompetence was the only thing standing in the way, which is even worse because this is a game, and games are supposed to harness your agency rather than strip you of it.

Still, when the game did invite player choice, it made good use of it, albeit in the really opaque, Persona-style sense, and the use of survey questions about romance as a means to guide the events and endings of the game was pretty interesting.

Ultimately, did Catherine push the boundaries of games as art? Eh, not really, but my view is that the medium is still young enough that we can afford to give out cigars, because the game really visibly tried. It picked an interesting topic and explored it in a fairly novel way with decent attention to detail and literary device. If it were written a little more carefully, if it made just a little better use of its medium (specifically not fumbling it at the moments where giving the player control is most important), it might have been an artistic achievement. Instead it was just a solid game, but the effort did not go unnoticed.

Footnotes:
(1): Perhaps, cynically or otherwise, you feel closer to Satan than whatever's on your particular Light Side.  In that case, replace "Satan" with "Hitler", which is only less interesting of a thought experiment because you know a priori he was a bigot.
Top Image: Banner for Catherine Classic (the version I happened to play) on Steam.